Hymns by Kathleen Pluth
"God Our Father, Ever Dwelling" [PDF] was chosen as the official hymn for the Eucharistic Revival in the Archdiocese of Detroit:
'O Center Of Our Life And Love', set to ST ANNE; this hymn was commissioned for the Diocese of Birmingham in Alabama:
"Lord, I place my future plans", with music by Aurelio Porfiri. This hymn was commissioned for the beatification of Bl. Maria Teresa of Jesus (1825-1889), celebrated in 2006.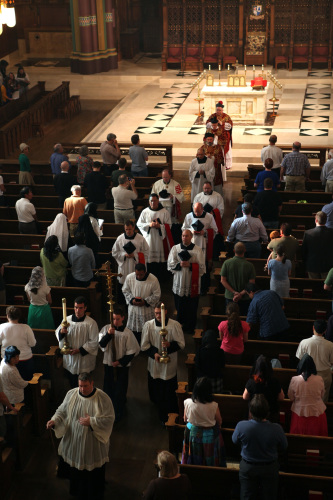 "The Son of Man", sung at the Sacred Music Colloquium of the Church Music Association of America in 2012 at the cathedral in Salt Lake City; Jonathan Ryan was the organist.
(photo credit: Charles Cole)
"O Holy Joseph", with melody by Jeffrey Wisniewski, sung by Fr. Kevin Vogel; this hymn was commissioned by Kenrick-Glennon Seminary.
"At the dawning of creation" (Hymn for the Innocents), sung at the cathedral in Syracuse:
Talks about hymnody
Here's one of a series of short talks about great hymns of the Office, in this case "Antra deserti" for St. John the Baptist. Others in the series are available at my YouTube channel.